Kimberly was born in 2014, at The Invisible Dog Arts Space, in Brooklyn, NY. The curators of CATCH! Performance Series offered me a slot to perform 7-minutes of whatever I wanted. I had always wanted to lip-sync Teena Marie's song "Portuguese Love," so I decided to learn how to be a drag queen, while on the road with several Big Dance Theater shows. Although I learned the basics of drag makeup from internet tutorials, I truly figured out who Kimberly was by performing at the legendary, envelope-pushing, weekly drag-show, Bath Salts, hosted by Macy Rodman and Severely Mame, at Don Pedro in Brooklyn. Since her nascence, she has performed at BUSHWIG, Joe's Pub, The Kitchen, Sid Gold's Request Room, Night of A Thousand Stevies at Webster Hall, The Poetry Project Annual New Year's Reading, House of Yes, the YWCA of Bergen County's 95th Anniversary Gala, Brooklyn Glass (in front of a 2100ºF furnace) and The Platinum Pony in Easthampton, MA (which has since burned down).
Upon moving to New Orleans, Kimberly became the weekly karaoke hostess of Tuesday Night Karaoke at Good Friends, a neighborhood gay bar in the French Quarter, as well as performing often at venues including The AllWays Lounge & Cabaret, Saturn Bar, and One-Eyed Jacks. She also hosted New Orleans' first Drag Queen Story Hour at the Hubbell Library in Algiers Point.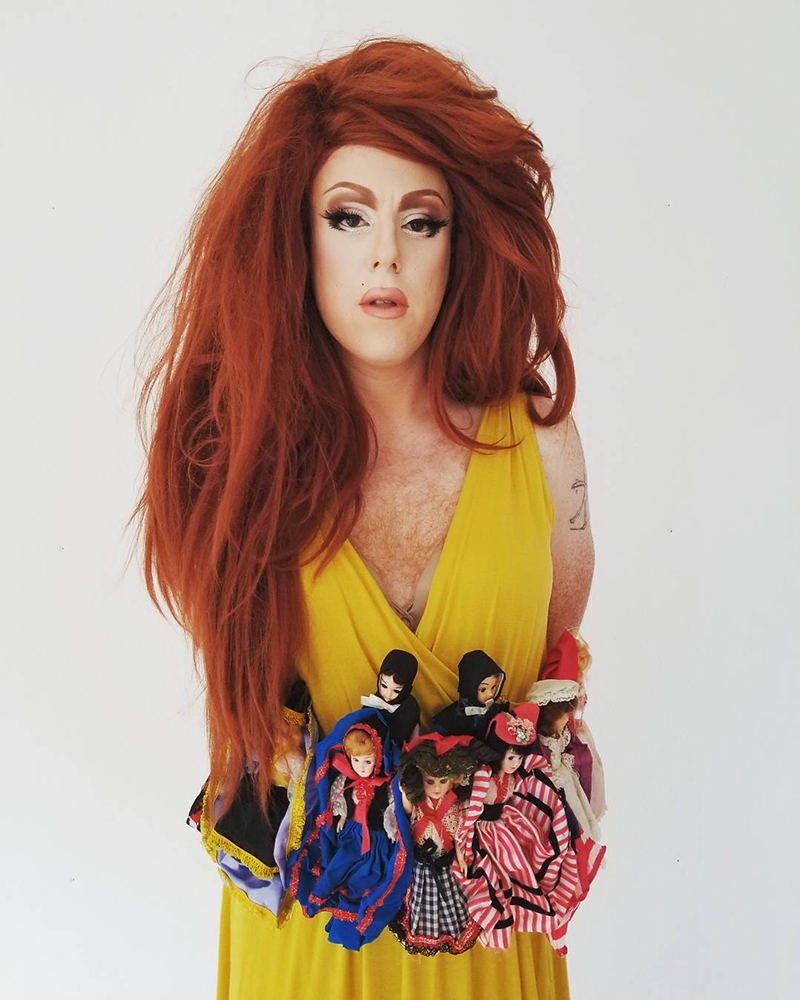 I started Kimberly Clark's YouTube Channel in September of 2014, and it currently has over 75,000 subscribers and over 5 million views on 150+ videos. I initially wanted it to be a place to showcase Kimberly's performances, but soon I became embedded in the consumerist-driven, online beauty community. Because of my strong anti-consumerist roots (namely working with Reverand Billy and the Church of Stop Shopping), I began making videos critical of the onslaught of cheap, unoriginal beauty products many YouTubers constantly peddle. I began to film "Antihaul Videos," a reversal of the trope of the "Haul Video," in which one simply showcases items they have purchased. Instead, I began listing new makeup releases that I was "Not Gonna Buy," and suddenly, Kimberly Clark became known on YouTube as "The Queen of Stop-Shopping." As well as filming 19 Antihauls, Kimberly has posted various other practical, anti-consumerist content, like her "No-Brand Makeup Tutorial Tag" and her Listen Up! series, in which she intellectually unpacks social justice issues like white privilege and gender.
I'm currently working on Kimberly's upcoming series, "How to Stop Shopping in 5 Easy Steps." It's sort of a manifesto, a practical guide to curbing your consumerism, and will serve as the ultimate antidote to the vapid, greed-infused, selling that pervades social media.
Check out more pics of Kim below, as well as some of her YouTube videos.
PRESS:
NOLA.com article about Drag Queen Story Hour
Queerty.com article about Drag Queen Story Hour
Allure article on Antihauls and anti-consumerism
Telegraph article on Antihauls and anti-consumerism
Racked article on Antihauls and anti-consumerism
Towleroad article on upcoming drag superstars from NOLA